As we all aware that vSphere 6.0 is released with lot of new features and enhancements. One of the new feature of vSphere 6.0 is support for NFS v4.1. vSphere 6.0 supports NFS v4.1 with kerberos authentication along with mutipathing support. You will be able to add multiple IP address associated with single NFS mount for redundancy. With vSphere 6.0 support for NFS v 4.1 have many new features and improvements
Session Trunking/Multipathing
Improved Security with Kerberos Authentication
Improved Locking(In-band mandatory locks)
Better Error Recovery(Client and server not state-less any more, with recoverable context.)
Choose your NFS Version:
You will be provided with the option to choose the NFS version during NFS datastore create option. You should use the same NFS version for the mounting the NFS datastore across all ESXi hosts. Mounting one or more hosts to the same NFS datastore using different NFS versions will lead to data corruption. In simple terms, If you have selected NFS 4.1 for the particular datstore, you should mount that NFS datastore with version NFS 4.1 in all ESXi hosts.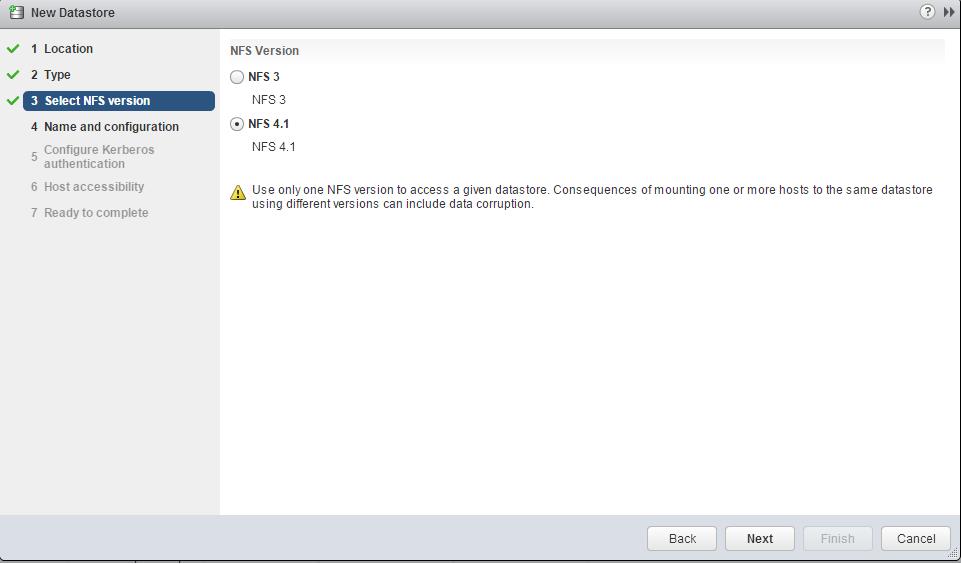 Configuring Kerberos Authentication:
Configuring Kerberos Authentication is a 4 step process. Follow the steps in order:
Configure NTP settings of the ESXi host
ESXi host must joined to the domain
Set NFS Kerberos credentials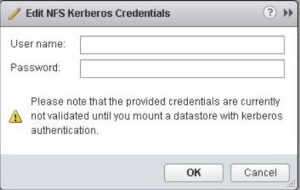 4. Enable Kerberos while creating datastore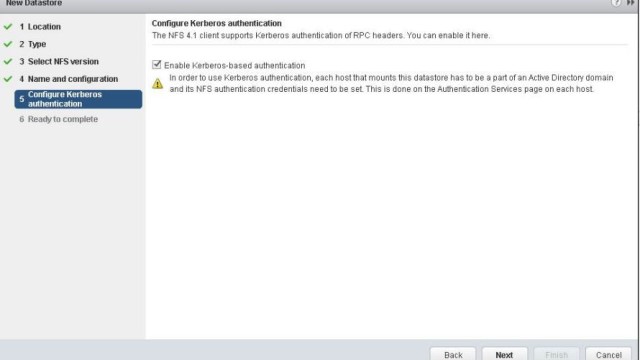 Configuring NFS Multipathing:
Enter the datastore name, folder path, and NFS server address. Enter multiple IP addresses that are available on your NAS to achieve multipathing to NFS server mount point, If the server that will back this datastore has trunking enabled.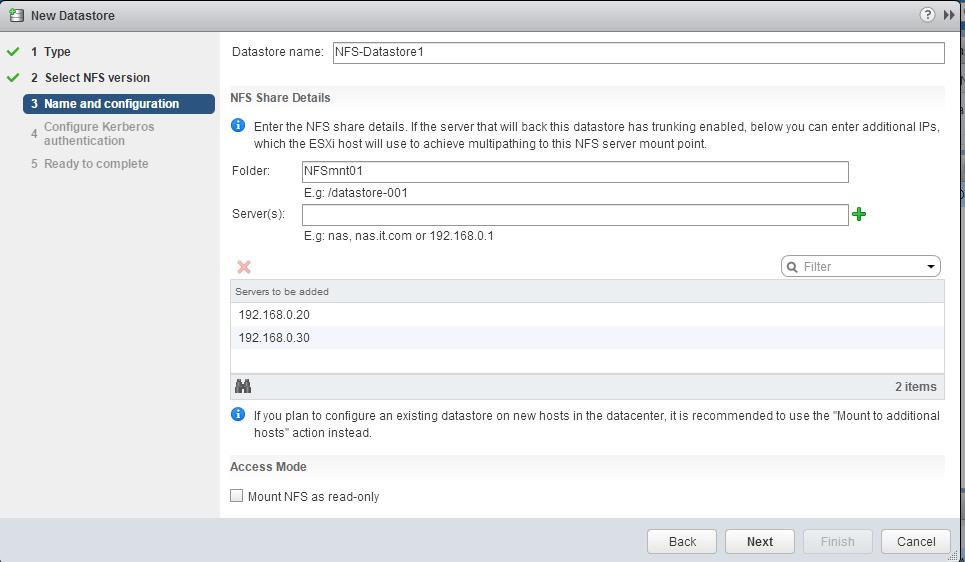 vSphere Feature Comparison between NFS v3 and NFS v4.1:
NFS datastores which are mounted using the NFS version 4.1 cannot work with few of the vSphere Features like SDRS (Storage DRS), SIOC (Storage I/O Control), SRM (Site Recover Manager) and Virtual Volumes (VVols).