RVtools is one of the best windows application which provides the great information about VMware vSphere environment. This tool has been written by Rob de Veij and you can download this tool from http://robware.net freely. If you want to use this tool for commercial use , do not hesitate to donate to him. VEEAM backup software company is already acknowledge his great work and sponsored .I have been in a situation to provide the vmware tools version for all the VM's and for an unknown reason vSphere client is not providing it for some the VM's. Then i have found RVtools and it saved my time by providing all the VM's vmware tools version in just one click.
In this article ,we will see how we can install RVtools and how to use it. RVtools supported on all the VMware vSphere Environment.Before reading this article , just download this file(Extracted from RVtools) and see whether this tool is worth having it in your laptop or not.
RVTools_export_all_20148922185
1. Download the RVtools from robware.net.
2.Execute the RVtools.msi file.
3.Agree the license  and continue to install .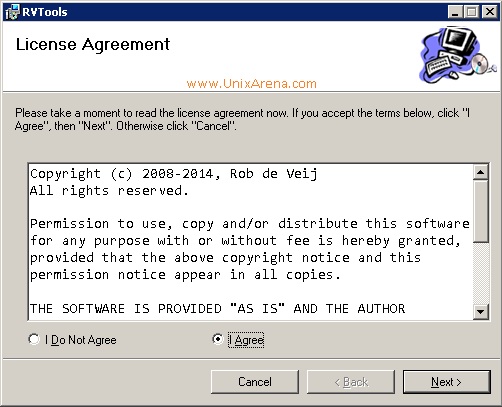 4.Click Next to continue the installation.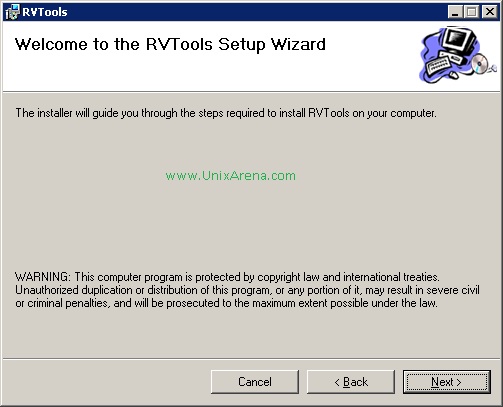 5.Select the path for RVtools installation.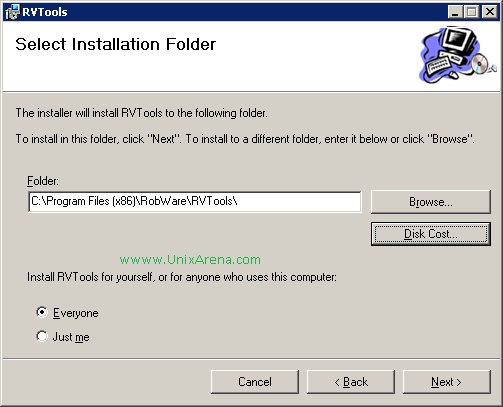 6.Click next to kick the installation .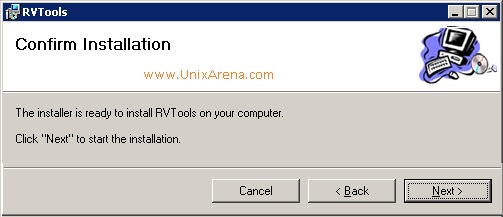 7.Once the installation is completed, just close the window.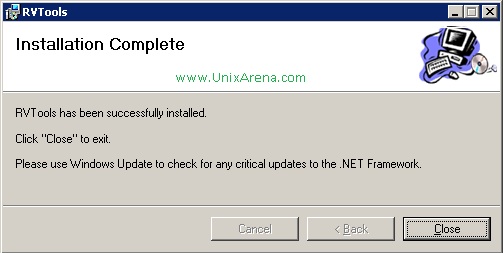 8.Open the RVtools from Start -> All programs  – > RVtools. Enter vCenter server IP address and credentials to connect .You can also directly connect to VMware ESXi hosts.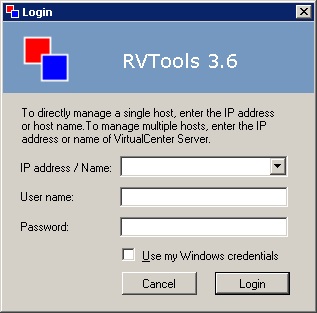 Firs time when i tried to connect VMware vSphere using  RVTools , it was showing some SSL certificate issue.But i just re-tired and system got connected.
9.Once you have logged in to the RVtools ,home screen will like below. By default ,it will be in VMifno tab.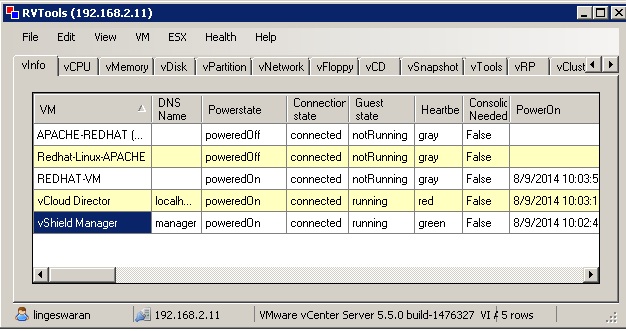 10.Click on the file to export the information to Excel sheet.If you click on "Export all " , then all the RVtools tab information will be exported to Excel sheet with different tabs. Exporting the data is very cool with Rvtools.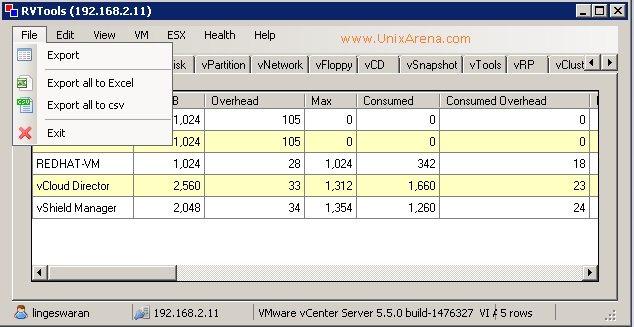 11.You can refresh the listed information by pressing F5 or Click on view – > refresh. You can also set the filer in the view tab.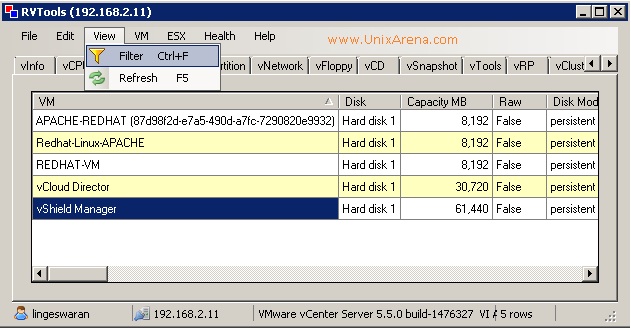 12.Here is the available filer option in RVtools.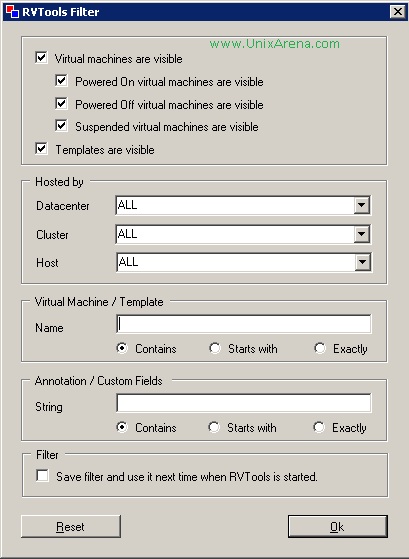 13.VM tab has all the information about the VM's.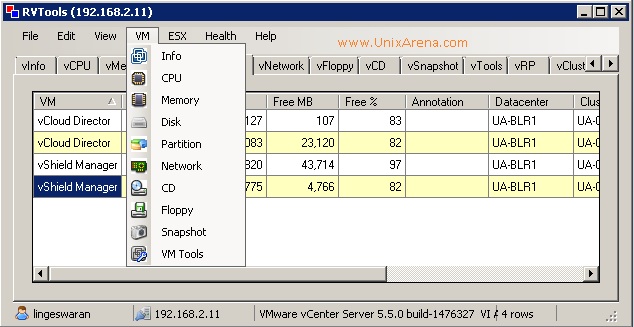 14.EXS Tab has all the information about the hosts.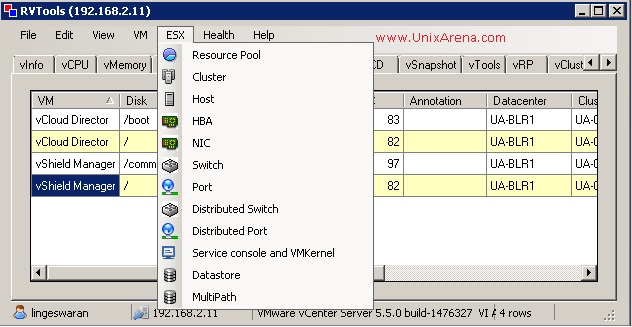 15.You will get the all ESXi and VM's health information under health.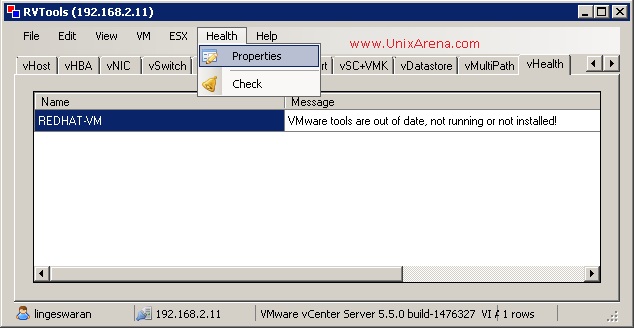 Health – > Properties will help you to define the health meter.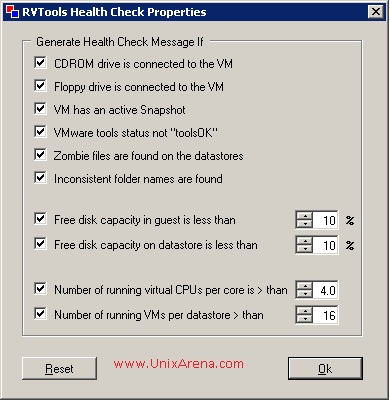 This tool is very simple and user friendly. This all credits goes to Rob De veij  and big  thanks to VEEAM  for sponsoring to this tool.